Corporate Structure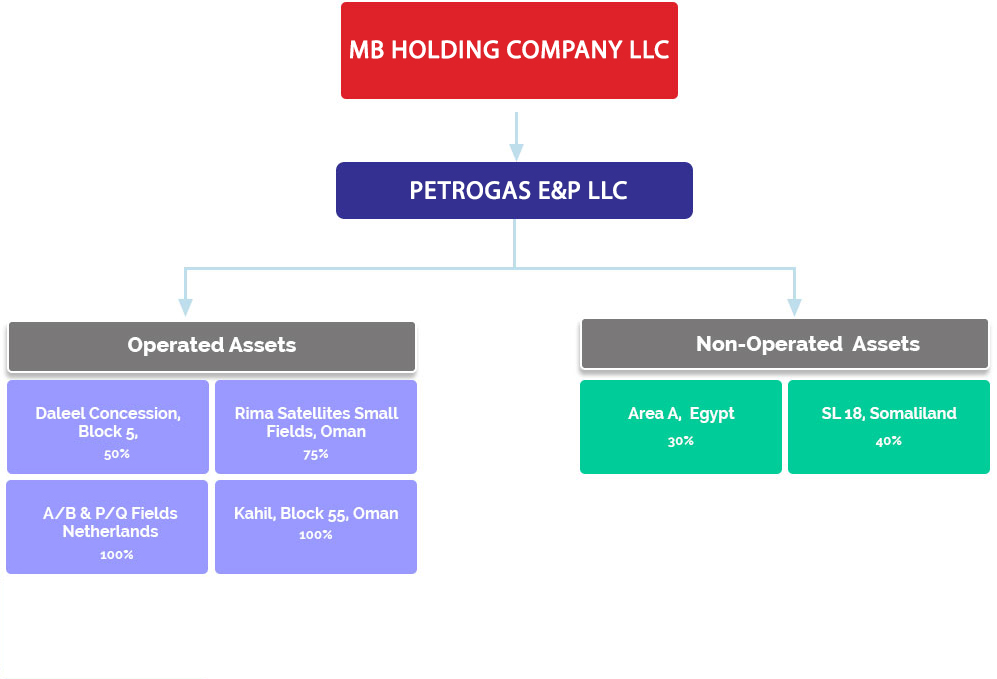 Mazoon Petrogas SAOC, a subsidiary of Petrogas E&P LLC, holds its 50% working interest in the Petroleum Agreement for Block 5, onshore Oman. The remaining 50% working interest in the block is held by China National Petroleum Corporation (CNPC). Daleel Petroleum Co. LLC is the operator of the block. It is an incorporated joint venture with Petrogas and CNPC each having a 50% stake. Daleel Petroleum is set up on a no-profit, no-loss basis.
Petrogas Rima LLC is the operator for the Rima Satellites Small Fields service contract with Petroleum Development Oman (PDO). It has a 75% working interest in the contract, with the remaining interest held by Oman Oil Company E&P LLC (OOCEP). These onshore fields are located in the south eastern part of Oman.
In Area A, Egypt, Kuwait Energy Company is the operator and holds a 70% working interest. Petrogas owns the remaining 30% working interest of this service contract with General Petroleum Company S. A. E. (GPC), Egypt.
Petrogas Kahil LLC a wholly owned subsidiary of Petrogas E&P is the operator with 100% participating interest in Block 55, Onshore Oman. The award of this concession was ratified at the beginning of 2014.
Another 100% subsidiary was formed in December 2013, namely Petrogas (Gibraltar) Ltd, for holding the non-operated 40% working interest in exploration block SL18 in Somaliland.
In India, Petrogas E&P LLC operated one shallow offshore block MB-OSN-2004/2, off the western coast with a working interest of 20%. This was the sole offshore block operated by Petrogas E&P LLC. In addition, Petrogas E&P LLC has a 20% participating interest in one offshore and one onshore block in India operated by Gujarat State Petroleum Corporation Ltd. (GSPCL). The blocks are in the process of being relinquished.
In 2014, Petrogas purchased all the outstanding shares of Chevron Exploration and Production Netherlands B.V. (CEPN), in the Netherlands including its subsidiary Chevron Transportation B.V. (CT). These companies later renamed as Petrogas E&P Netherlands B.V. (PEPN) and Petrogas Transportation B.V. (PT). CEPN was a 100% subsidiary of Chevron Netherlands Holdings B.V. Accordingly Petrogas registered its subsidiary in the Netherlands, Petrogas Europe (PGE) (registered name is Petrogas International E&P Coöperatief U.A.), to manage its assets in the Netherlands. PGE is also responsible to further enhance the company portfolio of Exploration and Production assets in Europe and the region. PEPN has interests in 11 offshore blocks on the Dutch Continental Shelf, whereas PT owns offshore and onshore crude oil and natural gas handling and transportation infrastructure.
In 2015, PEPN had an average net daily working interest production of approximately 2,000 barrels of crude oil and 40 million cubic feet of natural gas.